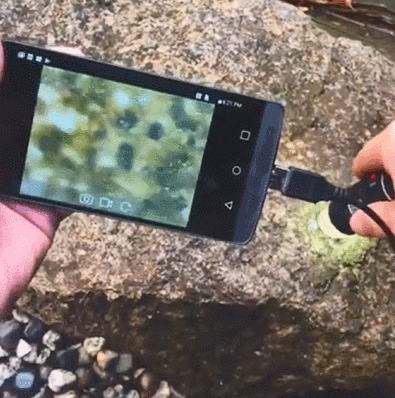 Excellent design, Perfect performance

Light is soft and not glaring, and the observation is clearer.

Professional, more versatile, can be applied to laboratory research, electronic components, jewelry identification, etc.

USB, more convenient to connect the computer.

Portable, lightweight and easy to use.

200W pixels, 00X-1600X, static resolution 1600*1200, video resolution: 640*480, support Win10 Win8 Win7 XP MAC,

Android phone
Scope of Application: The wonderful world is concentrated under this delicate microscope. The products are widely used in: computer inspection, electronic component welding inspection, scientific teaching tools, concrete, scalp inspection, jewelry identification and so on.

USB Interface: This product has USB interface and two adapters, can be connected to Android phones (does not support for Apple phones), support for MAC system.

High Resolution: The product has bracket for easy observation, detection, focus 1600X, high resolution, support shooting and video recording, measurement, small and portable, with light source.

Lens Protection Cover: The top of the lens of the microscope is equipped with a lens protection cover. Be sure to remove the protective cover before use, otherwise it will affect the observation.
Specification:
Size(approx.): bracket height: 12cm/4.72in; microscope: 11*3cm/4.33*1.18in; magnification: 0-1600x; pixel: 2 million pixels
Material: plastic case
Applicable: universal use
Packing List:
1*Microscope
1*Bracket
1*Correction ruler
1*Instruction Manual
Pixel:
1MP
Tips:
Free software available below. Works on Android, Windows, & MacBook.
This microscope lets you experience the thrill and discovery of a whole new microscopic world. Use by millions as the #1 Computer chip designing and repair camera. Work away by viewing a zoomed in view of your microchip instead of straining your eyes. 
Ready to go out of the box, it allows you to see even the smallest of details, in high resolution, directly on your computer screen, Mac, tablet or Android, simply plug it in with our multi-function adapter.
Details like skin pores, individual strands of cotton or even the fine scratches on a collectible coin that would be impossible to detect with the naked eye
Applied to jewelry, coin, stamp, electronics, skin & hair, print industrial inspection, laboratory research, medical analysis, biological inspection, and other inspection.
Magnify objects up to 1000 times of their original size and uses a dynamic image sensor and 8 super bright white LED lights for creating detailed images as you've never seen before.
HOW IT WORKS
Our Software allows you to snap photos on the go while analyzing objects under the microscope, or you can use your mouse or camera tap button on your computer or Android device to avoid disrupting your image. We use dynamic image sensors which keep steady from allowing you to get an in-depth 30 frames per second. The camera comes with a stabilizing stand to allows you to focus easily on the desired location of what you are analyzing.
The 1000X Microscope has 8 LED lights built in with a dimmer switch to adjust it to a brightness which suits your surrounding light and time of day. On the side, we have the 1 click Snap Shot button which will instantly take a photo and save to your computer and a one-click zoom button to easily switch to your zoomed in presets all the way from 40x to 1000x!!
Free Software Included - Download Below:
Windows: https://s3.amazonaws.com/plugable/bin/Digital_Viewer_3.1.07.exe

MacBook: https://s3.amazonaws.com/plugable/bin/Digital_Viewer_3.1.07.dmg

Android: Download the app OTG View - Free on the Google Play Store